Belgium is known for its exceptional nurseries, gardens, gardeners and landscapers. One of the most beautiful gems is rose nursery Lens Roses, a charming ambassador who brings roses all over the world.
150 years of excellence serving the rose and a secure future
Text: Marie Noëlle Cruysmans
Photos: Photoeil, Lens Roses, Eden Magazine.
The story begins in 1870 in Onze-Lieve-Vrouw-Waver near Mechelen, with the founding of the 'Grandes Pépinières et Roseraies Louis Lens'. The company would eventually span several generations. Founder Louis started cultivating trees, shrubs and roses. His son Victor continued the work and started crossing roses. He wanted to create cut flowers that smelled good, as was the fashion at the time. This is how his 'Ville de Malines', 'Cardinal Mercier', 'Princesse Joséphine Charlotte' or 'Madame Louis Lens' came into being.
The company soon became the place to be. Lens grew all the most interesting roses of the moment and unconcerned sent them all over Europe, to private individuals and growers in England, Germany, France or Italy. The Second World War, however, put an end to this formidable momentum. The company was sadly shut down. Four years later, the entire collection is lost. In order to make a new start, Victor sent his son Louis junior to collect grafting material in Belgium and Great Britain... A new beginning for Louis Lens' rose nursery.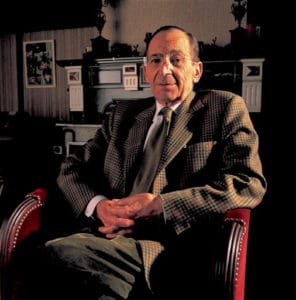 Poetic and modest
Louis junior, a scientist with a passion for mathematics and astronomy, has to give up his studies to join the adventure. He immediately sets to work. From 1947, on the advice of his parents, he started crossing new roses. After all, after the war, tastes changed. Lovers now want modern roses, in unicoloured, sometimes showy borders full of large-flowered shrubs. Mainly large-flowered tea hybrids and spray roses, Floribunda and Polyantha. In 1963, the grandiose 'Pascali', a cross with the famous hybrid tea rose 'Queen Elisabeth', caused fireworks. Because of its exceptional qualities: health, flower shape and white colour, 'Pascali' wins the largest collection of medals and later also receives the unique distinction of "World top rose 1991".
Delighted by this first success, Louis continued to cross with more natural roses, which suited him better. Moschata hybrids - from a line of R. moschata, Noisette roses and Rosa multiflora -are loose shrub roses with flowers in clusters. This group was developed in England in 1913 by the Reverend Joseph Pemberton and includes well-known varieties such as 'Penelope', 'Cornelia' or 'Felicia'. Louis prefers to work with these graceful and fragrant roses, which are also very floriferous and strong. Like Pemberton, he uses the rose 'Trier' - improved by Peter Lambert in 1904 - with its double, fragrant creamy white flowers with a yellow tint. This rose is the origin of many moschata hybrids.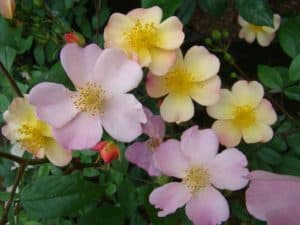 When he crossed it with R. chinensis 'Mutabilis', a difficult gamble, he obtained the delightful 'Plaisanterie', with flowers that change colour throughout the flowering period: orange in the bud, soft yellow at budding, then pink and finishing in dark pink to almost violet. Gradually, Louis became THE specialist of unique hybrids, going against most breeders who continue to work mainly with the large-flowered classical tea hybrids and spray roses. The whole world envies him for his refined 'Guirlande d'Amour', 'Pleine de Grâce', 'Bouquet Parfait' or his tributes to virtuosos and composers such as 'Ravel', 'Schubert', 'Sibelius', 'Puccini', 'Paganini' or 'Verdi'. His nursery is a real treasure trove, with an incredible collection of botanical roses that sometimes even disappeared in situ. His famous 'Rush', descended from Rosa multiflora, has the vigour of a wild rose combined with a persistent flowering until frost...
Louis Lens found a successor for his nursery with the Rudy and Anne Velle-Boudolf family in Oudenburg. Anne has been crossing and breeding following the example of the master since 1992. Her works include 'Dinky', 'Jean Stéphenne', 'Gaard um Tiizenbierg' and 'Caroline's Heart'. Lens Roses is respected and loved in Belgium and all over the world. Discover the latest developments of Lens Roses, and the classics of Louis Lens, at the Lens Roses exhibition at the Hex Garden and Plant Days.
www.hex.be/exposant/lens-roses

With thanks to Eden Magazine. You can read the complete article by Noëlle Cruysmans, with photos of Louis Lens' best roses and Anne Velle-Boudolf's choice in Eden Magazine in the spring issue 2021   https://edenmagazine.be/