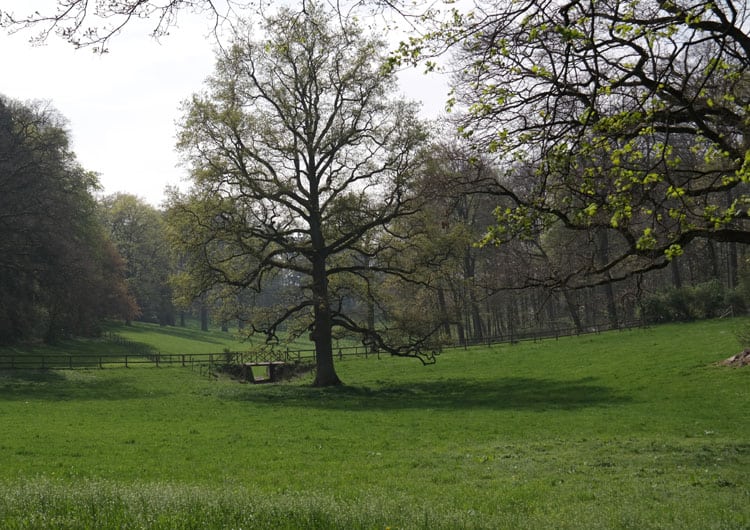 WALK THROUGH THE PARK
Outside the walled gardens of castle Hex you will find a large landscaped park of the 19th century, which has taken the place of the disappeared English gardens. The walk is usually started at the western entrance gate of the formal garden. From there a path bends right to the pond. On the way you already have a first view of the green valley with solitary trees. Further on, one can opt for a steep climb under the foliage to the panorama at the wedding column, or one returns via the bridge and the hidden caves to the platanendreef.
HISTORY
Around 1770, a number of English gardens were laid out by Velbrück, which were one of the first of their kind on the European mainland, between the French gardens and the Sablon mountain. In contrast to French-style gardens, these English gardens were characterized by winding paths and curved lines. Solitary trees and flowering bushes were seemingly haphazardly distributed over the gardens. Various people came along the route through the gardens folly's or 'factories' against: small structures in different styles that had to evoke a certain atmosphere.
The landscape designer Louis Fuchs redesigned the castle park in the 1880s and made it into a large landscaped park according to the spirit of his time, as it is now unchanged. Some of the elements present date from the 18th century. The biggest achievement of Fuchs is the elongated green valley that ends at the pond. For this the existing landscape was deepened and raised to the result that can still be admired today.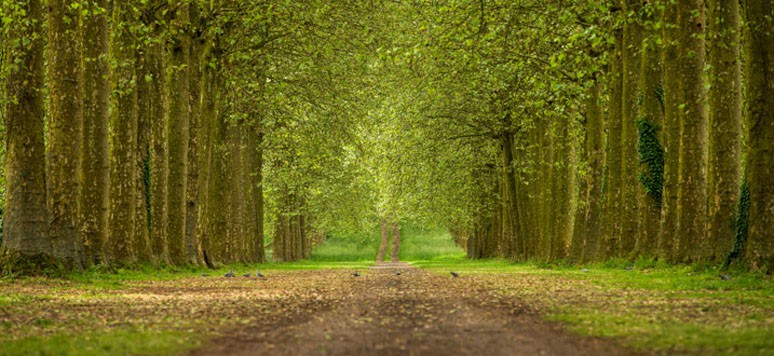 THE VIEWS
Next to the pond, a dike was erected in 1890 for the construction of a driveway from the Lod. Lavkistraat. This hidden entrance between the Yews is in fact the official entrance to the castle. The straight avenue of brown beech is the ideal backdrop for entering the French garden.
The drift of plane trees on the east side of the estate is almost two kilometers long and reaches all the way to Bommershoven. In the shadow of the plane trees, the exhibitors and growers set up their tents twice a year for a cozy plant festival.