De geschiedenis van Hex is altijd een verhaal geweest van rozen: van de oudste rozensoorten, die prins-bisschop de Velbrück in de 18de eeuw door de Verenigde Oost-Indische Compagnieën uit China liet importeren, over de collectie oude en bijzondere rozen die gravin Nanda d'Ursel verzamelde, tot de  nieuwste craties van 's werelds meest vermaarde rozenveredelaars vandaag.  In de laatste halve eeuw is de rozencollectie van kasteel Hex steeds uitgebreid. Er staan naar schatting 1400 rozen verspreid in de tuinen, waarvan zo'n 500 verschillende soorten. De rozen zijn aanwezig in formele perken en in de  mixed borders, als grote solitairen, of  groeien over de hekken, werpen zich over de balustrade en klimmen tussen de muren en de bomen…..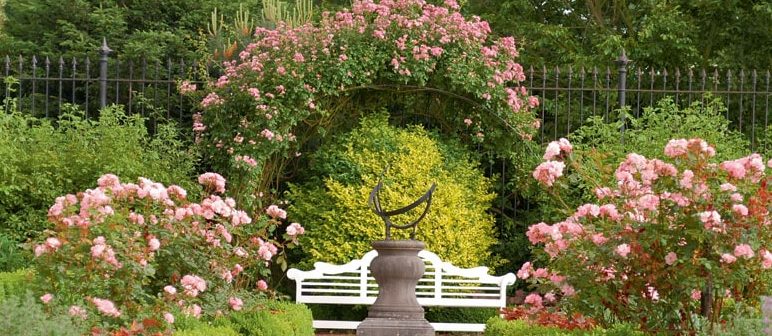 A WORK OF GENERATIONS
Het in kaart brengen van de historische rozen van kasteel Hex is met passionele aandacht en toewijding gebeurd door wijlen gravin Nanda d'Ursel. Zij maakte schetsen en beschreef de meest bijzondere rozen uitgebreid in haar tuinschrift. Later ontmoette de gravin Edith Dasnoy die samen met haar aquarellen maakte van de mooiste soorten. Samen publiceerden zij het boek "Rozen uit de Tuinen van Hex" (1995). Het boek is nog altijd te koop (tijdens de tuindagen op de stand van Hex).

A HISTORY OF ROSES
Wild roses come from the Northern Hemisphere, and span from the Arctic to Northern Africa, from the American Plains and New Mexico to Yemen, Thailand, South India and China. In Western Europe, species of Dog-Rose and Egelantier are native - about thirty species - but more than 200 wild rose species are known worldwide. On the flower meadow you will find the wild rose varieties that are characteristic of the flora of the Limburg and Brabant region.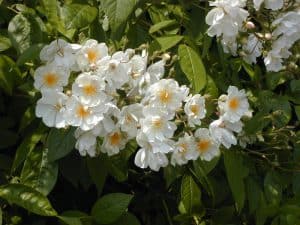 There are also numerous exotic. Er staat een aantal soorten van de Chinese Rosa banksiae in de buurt van de vijgenhof en de soorten van de Schotse Rosa pimpinellifolia staan in een rijtje achter de tennisbaan. Daar in de buurt staat ook de Rosa sericea pteracantha, met zijn opvallende gevleugelde doornen, die afkomstig is uit Nepal. Langs de deur van de groentekelder staat Rosa Mutabilis. Verderop Rosa roxburgii – beide ook uit China geïmporteerd. Her en der zie je klimmers van botanische oorsprong aan de tuinhekken, tegen de muren of in de bomen klauteren: Rosa arvensis, Rosa multiflora, Rosa filipes 'Kiftsgate' en de indrukwekkende Paul's Hymalaian Musk aan de voorzijde van het kasteel.
The botanical varieties with their wild clusters and their abundant flowering are almost unrivaled in charm and beauty. But thanks to the centuries-long culture of the rose, its exchange between the regions and the continents and the numerous crossings that this entailed, we now know an almost innumerable number of roses in all possible variations.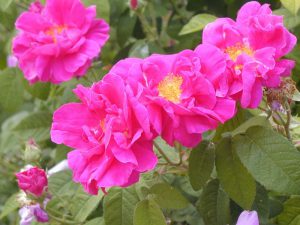 It is difficult to say when the Rosa gallica (French rose) was introduced to our regions for the first time. It occurs naturally in France and further east in southern Europe to Turkey. In its long history of culture, many variations of the French rose have emerged. They are all pink, flame red to deep violet, and they only flower once a year,
maar ze zijn zeer geliefd om hun bijzonder parfum. In de tuinen van Hex zien we, naast de oorspronkelijke wilde vorm, enkele tientallen van de mooiste Gallica's verzameld, waaronder Tricolor de Flandres, De la Maître d'Ecole, Alain Blanchard, Charles de Mills en vele anderen.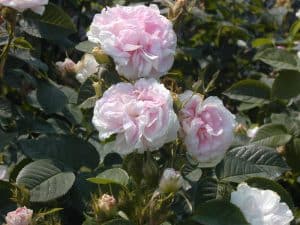 The white or soft pink Alba-rose werd waarschijnlijk reeds gecultiveerd bij de Grieken en de Oude Romeinen. Het gaat om een kruising van één van de Hondsrozen met een Gallica of mogelijk een Damascener-roos. De groeiwijze van de Alba's is anders dan die van de Gallica's. Ze werpen lange buigzame takken, die overigens weinig doornen hebben. De bladeren hebben een blauwachtige schijn en de bloemen ruiken zoet. De mooiste exemplaren, vertegenwoordigd in Hex, zijn Celestial, Königin von Dänemark of Great Maiden's Blush (ook ooit 'Cuisse de Nymph' genoemd). Zij kennen slechts één bloei in het jaar. De Alba's zijn samen met de Gallica's grotendeels gegroepeerd beneden in de moestuin, in de lange border die zich uitstrekt naast de schapenweide, van de serre tot aan de oude waterput.
A third old family in the roses is the group of the Damask roses. Het zijn kruisingen van de Rosa gallica met andere wilde soorten uit het Middelands Zeegebied zoals Rosa phoenicea of Rosa moschata. De Herst-Damascenerroos is bijzonder omdat ze als eerste in de nazomer een tweede bloei kent. De Damascenerrozen zijn beduidend minder winterhard dan de Gallica's. Ze groeien hoog op en werpen losse trossen van welriekende grote bloemen in de kleuren rood, wit of rose.
The Centifola or Provencerose was only born in the 16th century from a crossing of a Herst-Damask with a Rosa Alba. The group was sterile for a long time and was propagated with cuttings, until the 19th century when a fertile species arose that could be further crossed. In addition to the original Centifolia we find Petite de Hollande and Pompon de Bourgogne in the garden of Hex. The rosebushes of the Centifolia family are characterized by their thick, filled flowers that are slightly closed - which is why they are also called Cabbage Rose in England. Other names for this rose are Dutch rose or Rose de Peintre, because of its success with the Dutch masters of the 17th century.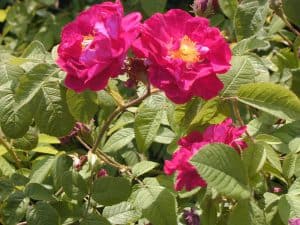 The Centifolia-Moss roses originated as a spontaneous deviation of normal Centifolia roses. The first is mentioned in 1720. The Centifolia moss rose is characterized by the presence of numerous scented gland hair on the flower stems. The growth method is somewhat striking, but that is compensated by the special character of the flower. The roses are very aromatic and the colors are deep violet or dramatically dark. Behind the double row of peonies in the vegetable garden are William Lob, Nuits de Young, Tuscany Superb and a dozen other exponents of this family.
In China, roses have been grown for centuries and have been crossed into new cultivars. The first Chinese roses kwamen in onze streken toe in het jaar 1792. De Rosa chinensis multipetala die nog steeds op de prinsenhof staat,is één van de eersten die door de Verenigde Oostindische Compagnie vanuit China werden vervoerd – naar de overlevering wil- op speciaal verzoek van prins-bisschop de Velbrück. Daarnaast vind je uit die tijd ook nog Rosa indica rubra en een 'Old Blush' op de prinsenhof terug.
On the island of Bourbon, an important mooring place for merchant ships - halfway on the route between Europe and the Far East, members of the Herst-Damask rose family met the Chinese rose (Rosa chinensis) in the 17th century. From the necessary crossings that followed, the Bourbon rose, which was later bred by crosses with Gallica and Damask hybrids. The family of the Bourbon roses has a good re-flowering in the late summer. The flowers are often half-filled and light-pink. In the garden of Hex you will find them mainly near the tennis court: Mme. Isaac Pereire, Louise Odier, La reine Victoria and others.
The Tea Box (Rosa odorata) is a Chinese rose that has long been in culture in China. She is called Tea Box because the flower smells slightly of tea. Intersections of the Tea Box with Noisette and Bourbon Roses yielded a whole new family of blooming Hybrid tea roses, which today is mainly known as a daisy. They are mainly in the beds in the conservatory in Hex.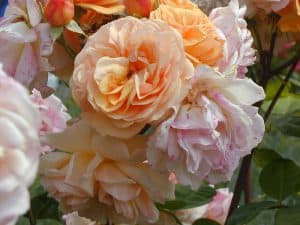 You can also find the roses from English rose grower David Austinclose to the conservatory. He has succeeded in uniting the best of two families.
Het romantische uitzicht en de geur van de oude Gallica's, Alba'a, Centifolia- en Boubonrozen met het doorbloeiend karakter van de moderne Thee-hybriden.
Louis Lens, Belgisch boomkweker en rozenveredelaar, was een goede vriend van wijlen gravin Nanda d'Ursel. Lens sloeg een gans nieuwe richting in met rozen te kweken voor graslanden en plantsoenen. Zijn Moschata-hybriden zijn over de ganse wereld verkocht. Op Hex vindt men nog altijd exemplaren van zijn proeven, waarvan sommigen de handel nooit bereikt hebben, bijvoorbeeld in de rij naast de grotten. Maar ook in de moestuin en in de zogenaamde vriendentuin naast de terrassen, vind je enkele van zijn mooiste creaties terug.
Gravin Nanda d'Ursel had ook een zwak voor de kleine trosroosjes van de Polyantha family. We vinden ze terug in de moestuin; in lange rijen voor de pioenen en in de perken rond de bassin. De Polyantha's (of miniatuurrozen) zijn nakomelingen uit complexe kruisingen van Chinese rozen met Centifolia's, Bourbonrozen of oude Thee-hybriden.
Tot slot is er het Geschwind-rosarium dat in 2012 werd aangeplant bij de oude Ceder, achteraan op de platanendreef. Naast de bekende 'Zigeunerknabe' bevat de verzameling nog enkele tientallen onbekende en vergeten rozensoorten van Rudolf Geschwind from the beginning of the 20th century, collected from old gardens and the rosaries of Western and Eastern Europe. Geschwind roses are characterized by their natural character and resistance to all weather conditions. This rose collection is intended as a gene bank for future breeders.

View here:  the alphabetical register of roses from Hex.
NEW ROSE NAMES REFERRING TO HEX
In juni 2013, vanwege het 20 jarig bestaan van de Tuindagen, vernoemde een aantal trouwe exposanten/kwekers hun nieuwe rozenselecties en winningen naar Hex:
- Rosa 'Gardens of Hex' – Lens Roses
- Rosa 'Kasteel Hex' – Peter Beales Roses
- Rosa 'Rebel of Hex' – De Bierkreek
- Rosa 'Spirit of Hex' – Vierländer Rosenhof
Aanbevolen websites voor de liefhebbers:
Peter Beales -  Lens Roses -  De Bierkreek - Vierländer Rosenhof
In 2016 werd een nieuwe roos gedoopt naar gravin Stéphanie d'Ursel, gastvrouw en beschermster van de tuinen van kasteel Hex:
– Rosa 'Gravin Stéphanie d'Ursel' – Lens Roses