Programme 3, 4, 5 June 2022
The United Nations has declared 2022 'International Year of Artisanal Fisheries and Aquaculture'
At Hex this will be translated into information on Aquaponics and the water requirements of plants.
2022 is also the year of year of the beech (Fagus), blackbird, and glass; additional themes at Hex include biodiversity, bees, soil, etc.
BOOK LAUNCHES :
–The worldwide forager, by Roger Phillips, published by Unbound.
Introduction by Nicky Foy-Phillips
–De eetbare siertuin, translated by MergenMetz, ed. Noordboek, original title : Toutes les plantes belles et comestibles, by Didier Willery (manager, collections Vastérival) & Pascal Garbe (director, Fruit gardens Laquenexy), éd Ulmer.
Introduction by Norbert Mergen (MergenMetz) in the presence of the authors.
+ book-signing
EXHIBITION:
Meet your Greens : unusual pictures of vegetables and fruit.
INFORMATION, DEMONSTRATIONS, WALKS AND TALKS ON:
. The edible ornamental garden (in response to the book De eetbare siertuin); a selection of EDIBLE  PERENNIALS, at MergenMetz
 . AQUAPONICS What exactly is aquaponia? Explaining why it is so popular in permaculture and how you can
   apply it in your own garden, by Ecogarden Design*)
. WATER REQUIREMENTS
-of PERENNIALS, ANNUALS and BIENNIALS will be shown by Crea Flora, Cruydt-Hoeck, FDN  Böttcher, Planterij Groenstraat 13, Silene and many other nurseries
-of ROSES, explained by Lens Roses *) Dutch/Fr
-of DROUGHT RESISTANT PLANTS, due to their root system (prairie plants), as well as their leaf shape and  colour, explained by Planterij Groenstraat 13 *) Dutch
-of plants in POTS, explained by Silene *) Dutch
-when SOWING in the OPEN GROUND, by Silene *) Dutch
– The function and usefulness of OLLAS (clay vessels) in the context of WATER MANAGEMENT; how to  manage flower pots and container gardens when you are not at home, and how to promote rooting  during the first two years of a newly planted orchard/hedge/wood bank, enabling them to dry weather,  by Eco-garden Design *)
. BIODIVERSITY
-information about specific planting plans, where NO EXTRA WATER should be required; why such a global design is useful with a focus on the challenge of sustainable water management for green areas, by Eco-  garden Design *)
–USEFUL (BEE)PLANTS, at Planterij Groenstraat 13 *) Dutch
-building a LIVING and HEALTHY SOIL, with and without WATER, by Humus *) Dutch/Fr
. BEES and BEE PLANTS,
-their importance and application in the garden, by Planterij Groenstraat 13 *) Dutch
-a dozen wild species Clematis specially for bees, at FDN Böttcher
.TREE PRUNING
  demonstrations, by Pierre Antoine Bauchau *) Fr
. BLACKBIRD and other birds
  an extensive choice of plants and shrubs useful for birds in the garden, at Green Area
. A large collection of FAGUS (beech), at Cassano
. SEEDS and SEEDLINGS
-extensive collections at Silene incl. Cycle en Terre, Kweek Gent
-traditional ITALIAN vegetables, sapori profumati della cucina Italiana, (flavours and scents of Italian  cooking), by Kweek Gent
-composing seed BOMBS, demonstration by Kruidjes *) Dutch
. Bronze GARDEN TOOLS; tips on maintenance, bring your own secateurs, by Kopersporen
. Making ROSE jams, syrups, sugar, salt, breadcrumbs, powder, demonstration by Kruidjes and tasting of   Syrups *) Dutch
. Methods of GRAFTING Viburnum, bring you own branch, by Ward van Teylingen *)
. Virtue and vice of LAURUS, laurel powder and -salt, by Devriese-Luyssen
. Filling (Eye) CUSHIONS with FLOWERS and HERBS, demo, and explanations about their beneficial effects, by Kruidjes *) Dutch
. About thirty old species CLEMATIS for planting in historical contexts, by FDN Böttcher
. WALK around the ROSE history of Hex based on the book 'Verde Bloemen', by Daniëlle Houbrechts of   Kruidjes *) Dutch
. GUIDED VISITS OF THE GARDENS *)
*) For dates and hours please see schedule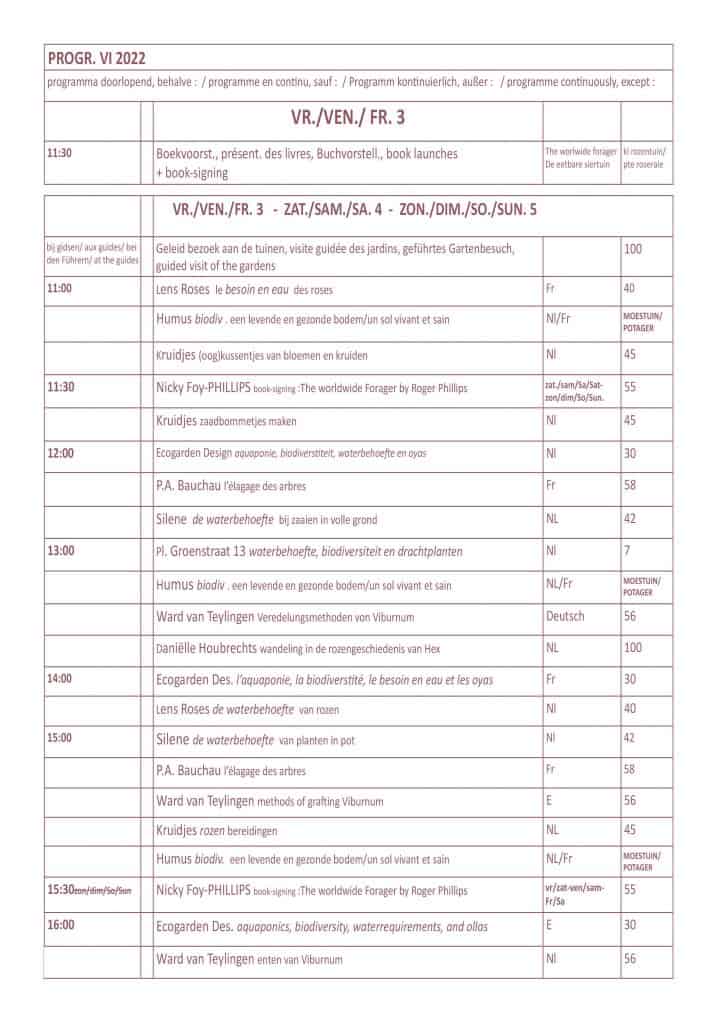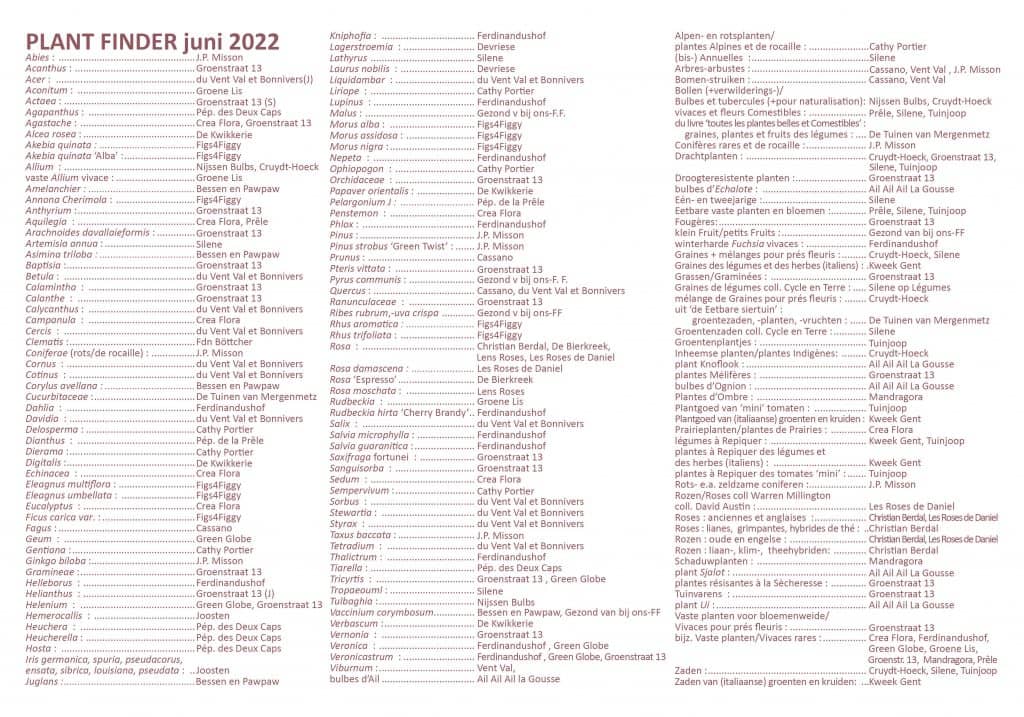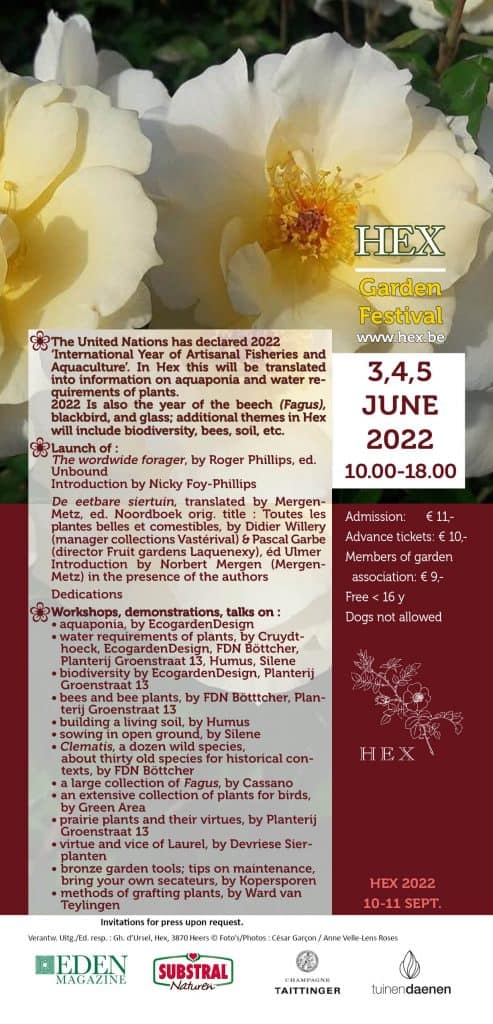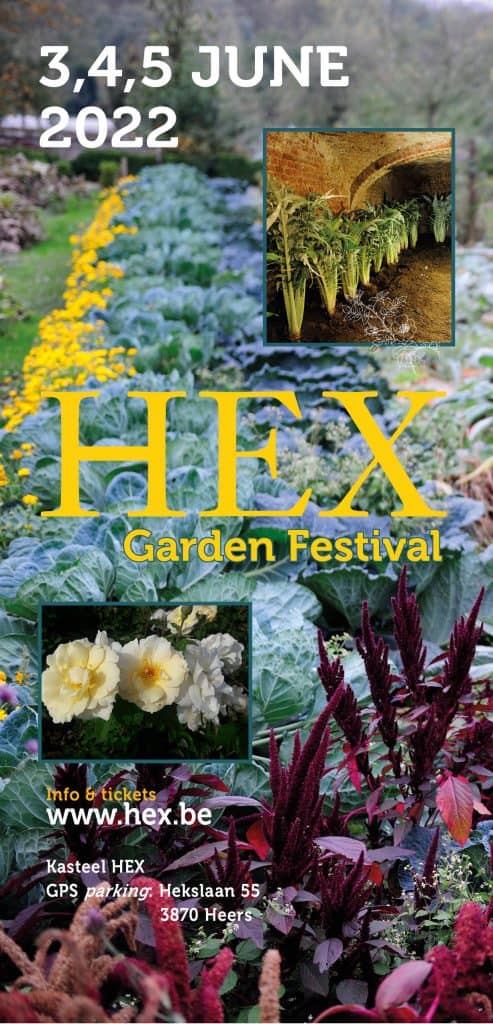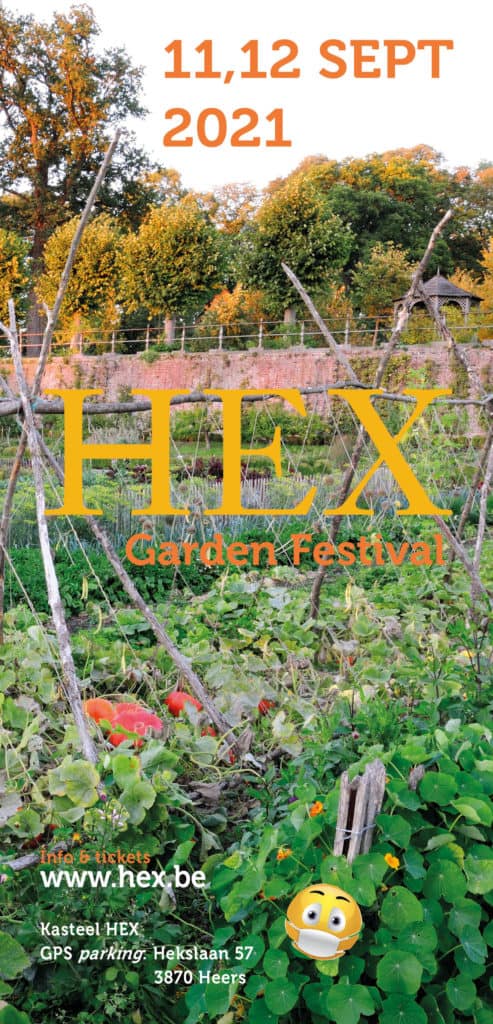 EXHIBITIONS
Soil biology, compost and soil cultivation.
by Marc Verhofstede, in the vegetable garden (stand 74).
+analysis of your own soil sample  (read more ...)
Sat./Sunday at 11:00, 13:00, 15:00
Dyeing textiles with vegetable materials.
by Caroline Klinckhamers, at the front of the lane (position 3).
Sat./Sunday at 12:00 pm: vegetable dyes
Sat./Sunday at 14:00: ecoprint technique
Sat./Sunday at 4:00 pm: Applications in quilts and shawls
Pruning of espalier fruit.
by Paul van Laer (NBS), in the vegetable garden (stand 76).
Sunday at 11:00, 13:00, 15:00
Propagating flowering shrubs by grafting.
by Ward van Teylingen, in the inner courtyard (stand 71).
continuous
Rose collection on the terraces.
Walk with Rudy Velle (Lens Roses), starts in the inner courtyard (stand 52).
Sat./Sunday at 11:00 - French spoken
Sat./Sunday at 15:00 - Dutch
Maintenance and sharpening of your secateurs.
by Henny Schalen (Kopersporen), on stand 40.
continuous
Pruning Clematis as a patio plant.
by Jean Marie Dheedene (FDN Böttcher), stand 8.
continuous
Preserving and preparing edible flowers.
Making seed bombs and greeting cards with seeds.
by Daniëlle Houbrechts (Kruidjes), in the stables (stand 60).
continuous
Ecological garden design.
advice by Ellen Fierens (Ecogarden Designe) at stand 42.
continuous
EXHIBITIONS:
Nymphea and Lotus
by Daniel Ost, at the Chinese Garden (stand 72).
 -with Agua and Pottenland.
Aubergines for the North
by Peter Bauwens, in the Carriage Hall (stand 75).
Dried flower bouquets
by Lieve Adriaensen, in the stalls (stand 55).
By-diversity
by Rik Storme, on the drive (stand 7).
Cucurbitaceae
by Norber Mergen, on the causeway (stand 59).
The announced presentation of the book Vegetables by Martyn Rix and Roger Phillips (Macmillan) is postponed to September 2022.
74 exhibitors show their best products: unusual plants, shrubs and trees, artisanal products for gourmets, original garden decoration, quality seeds, bulbs and tools. (read more ...)
Catering by Traiteurs Pohliq, Leopold City Food, Bouchon Roulant, the Rural Guild and 'Wafeltjes van bij ons bomma'.
Continuous walks with the guides from Hex.
Nature Playground for children.
PLANTATION GREEN STREET 13
Information at the stand will show the indispensable importance of biodiversity and of bees, 'bee-odiversity' as Rik Storme calls it.
Rik talks about flowers, bees and bumblebees. In addition to domesticated honey bees, there are wild or solitary bees. The latter are divided into polylectic bees, which find their pollen in many different plants, oligolectic ones, which find pollen in special kinds of flowers, and even monolectic ones, which depend on one kind of flower.
Bees and flower plants have evolved simoultaneously.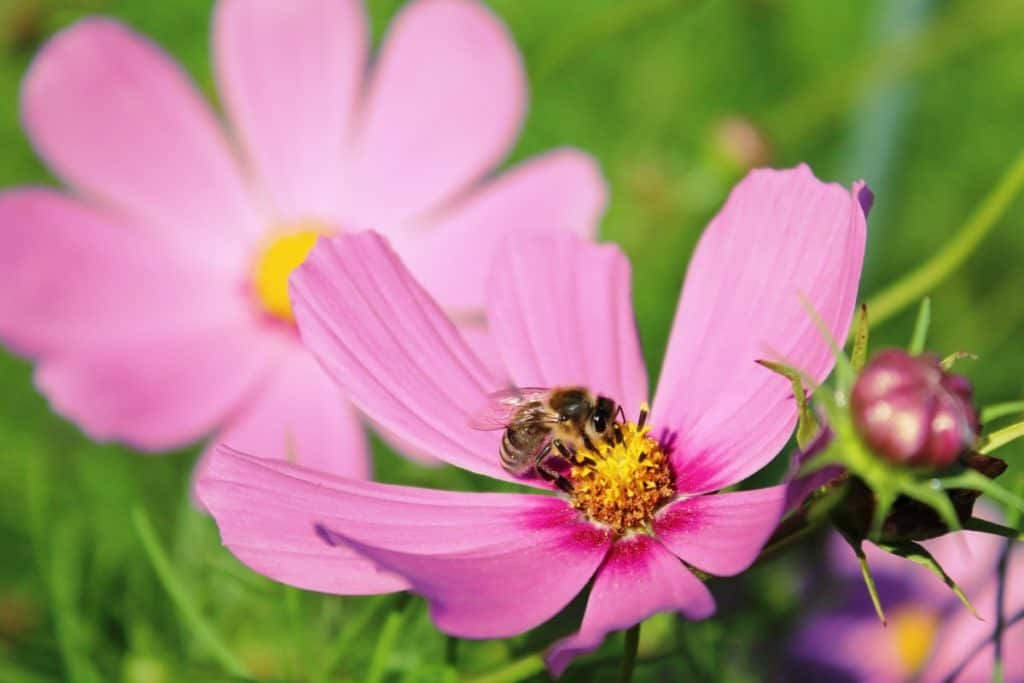 FDN BÖTTCHER
At their stand, Jean Marie Dheedene demonstrates how to prune a Clematis into a patio plant (in a pot). They have many. In anticipation of September, they will also be showing a collection of winter-flowering Clematis.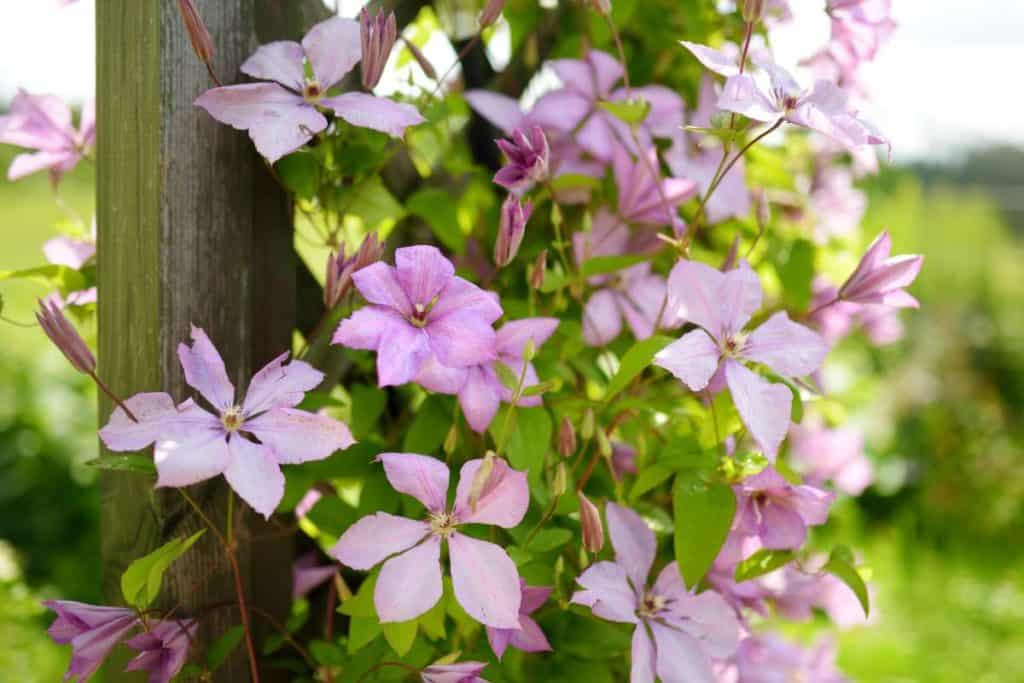 ECOGARDEN DESIGN
No-mow May
Nowadays we are becoming used to dryer summers, which means we can cut down on mowing, conserve moisture and enjoy the wild flowers in our lawns.
On her stand, Ellen Fiers will explain some simple tips which will help save time and effort, keep your lawn greener, look beautiful AND be good for the environment !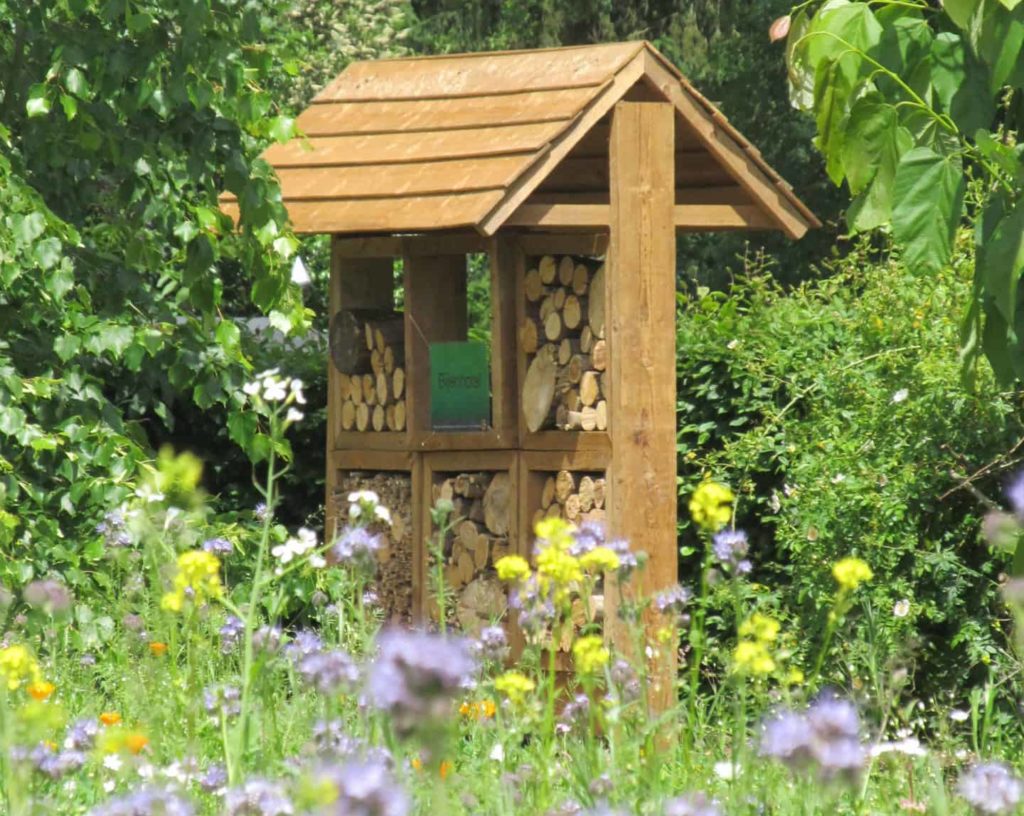 SILENE
Anne Adriaensens presents a collection of seeds - unmodified and grown in an eco-friendly way - of edible flowers and plants, which are also beautiful, with suggestions for their preparation. Insect-loving plants are also discussed as well as the special medicinal qualities of Artemisia annua..
New in their collection are the vegetable seeds, plants, and seedlings from Cycle en terre.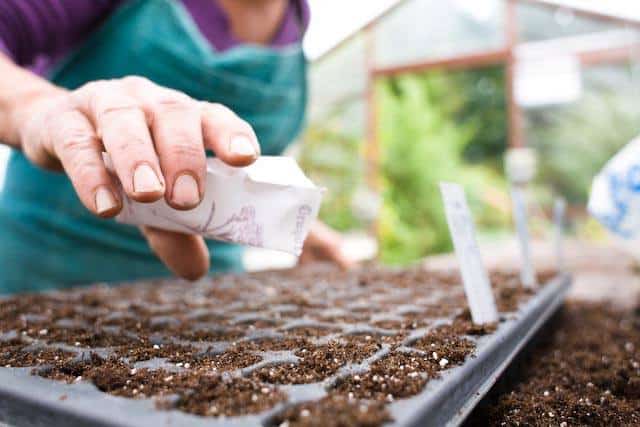 KRUISBESSEN PROEFTUIN
At their stand, Marc Geens and Greta Crauwels explain how a grower develops new varieties. They demonstrate this with one of their new varieties of gooseberry: Ribes uva-crispa 'Sumar'.

HUMUS
The quality of fruit and vegetables, of all healthy and vital food, starts with a healthy living soil with a lot of humus. Marc and Benedicte Verhofstede explain how to create healthy soil in your own (vegetable) garden.
Healthy soils are the foundation for healthy food, life and planet.

NATURE PLAYGROUNDS
For children from 6 to 12 there is a nature playground behind the first stands in the avenue of plane trees, while for the little ones there is also a play forest in the 'manège'.
LAUNCH OF THE BOOK :
'The Worldwide Forager', by Roger Phillips, edit. Unbound POSTPONED UNTIL JUNE 2022 due to Covid19
The United Nations have proclaimed 2020 the International Year of Plant Health. The initiative is aimed at increasing awareness among the public and policymakers around food security issues..
On the programme therefore there will be demonstrations, walks and information sessions about : food safety, useful insects, biodiversity, bees and bee plants, sustainable gardening and soil health.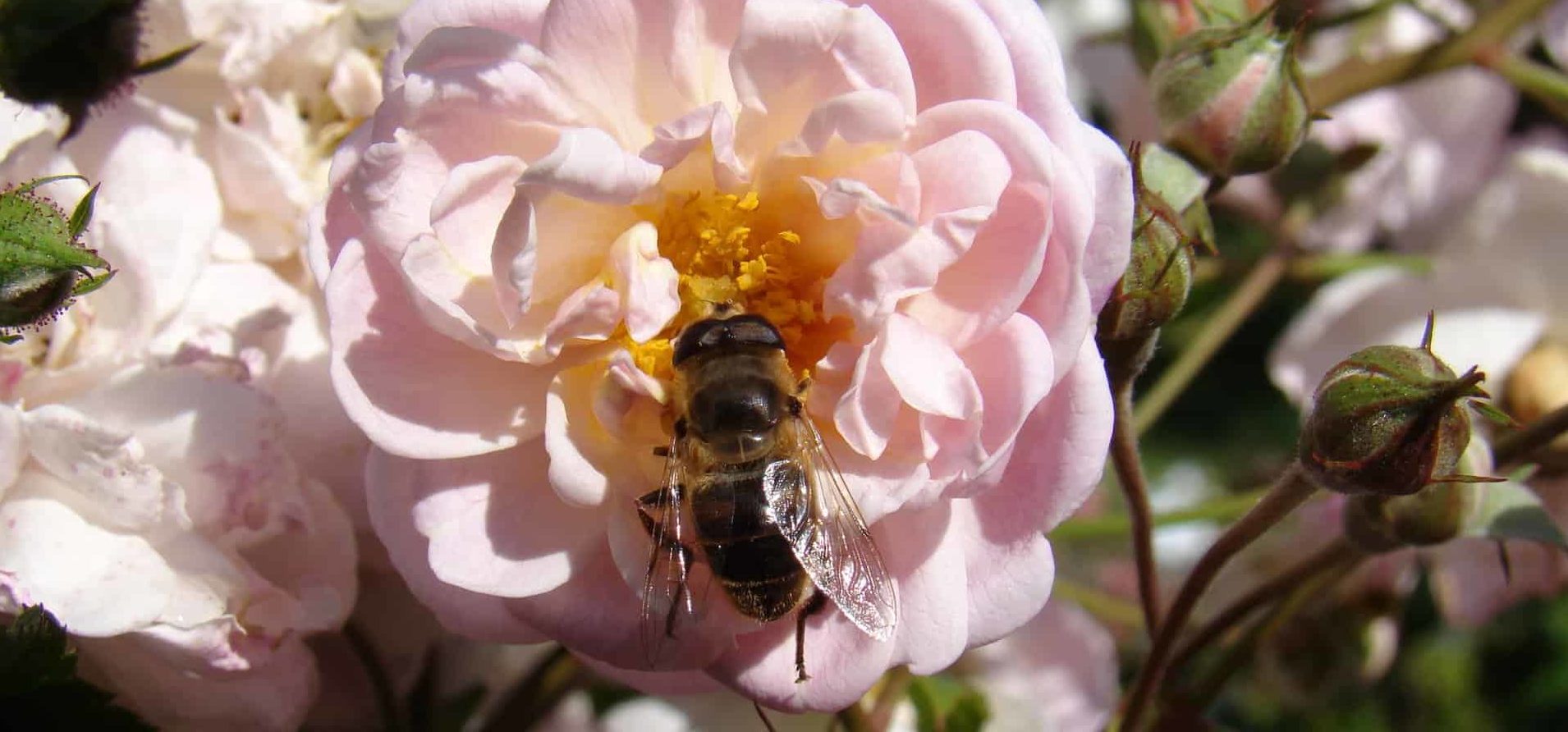 Insect Walk
Walk through the gardens with Hans van Hage from the organic rose nursery De Bierkreek and learn about growing without chemicals, the role of beneficial insects, and how plants build up resistance.
---
De Bierkreek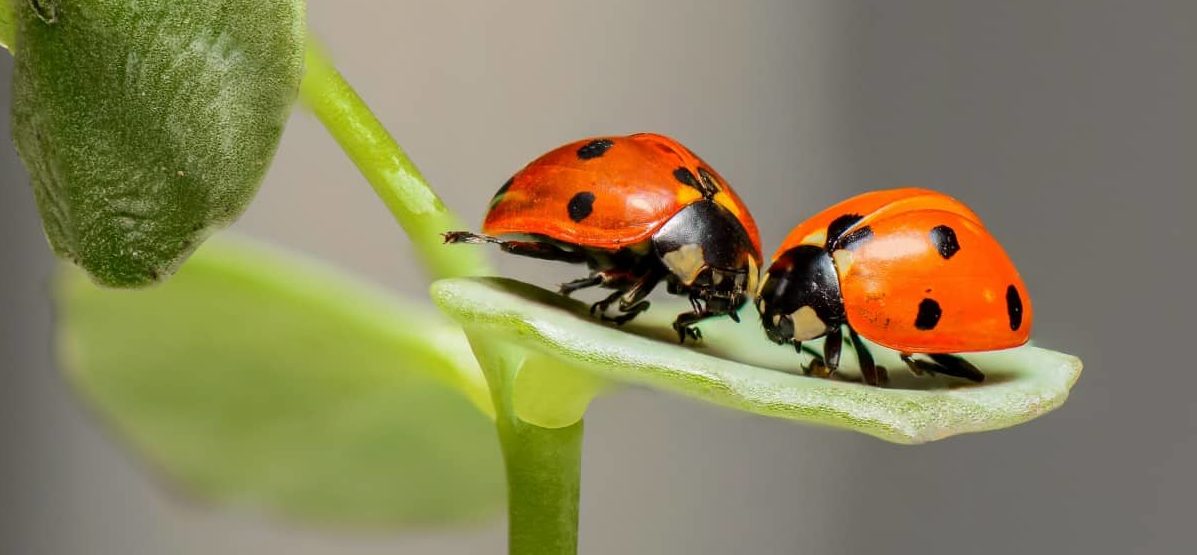 Healthy Management
Jean Marie Dheedene will demonstrate how plants can thrive by using ladybirds to protect against aphids in the tunnel greenhouses, by watering plants individually, and how to make plants resilient and insect resistant by using natural methods.
---
FDN Böttcher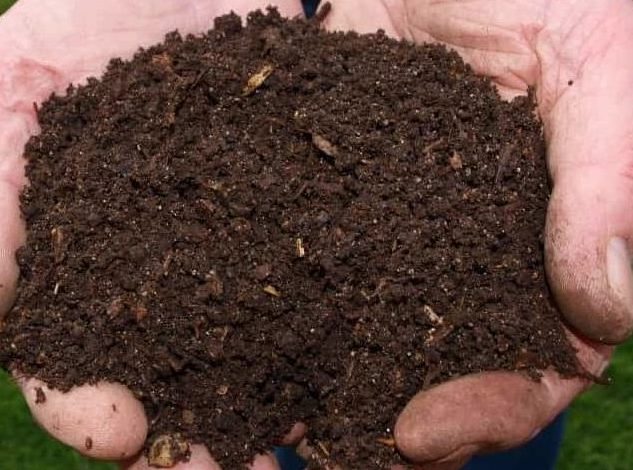 Soil and Vitality
Plant health is related to soil life and soil health and the way diseases and pests occur in a crop is closely related to the resistance in the crop system. Just as healthy food can improve human resistance, so it can also improve plant health. Marc and Benedicte Verhofstede will show you how to successfully cultivate in collaboration with nature.
---
Humus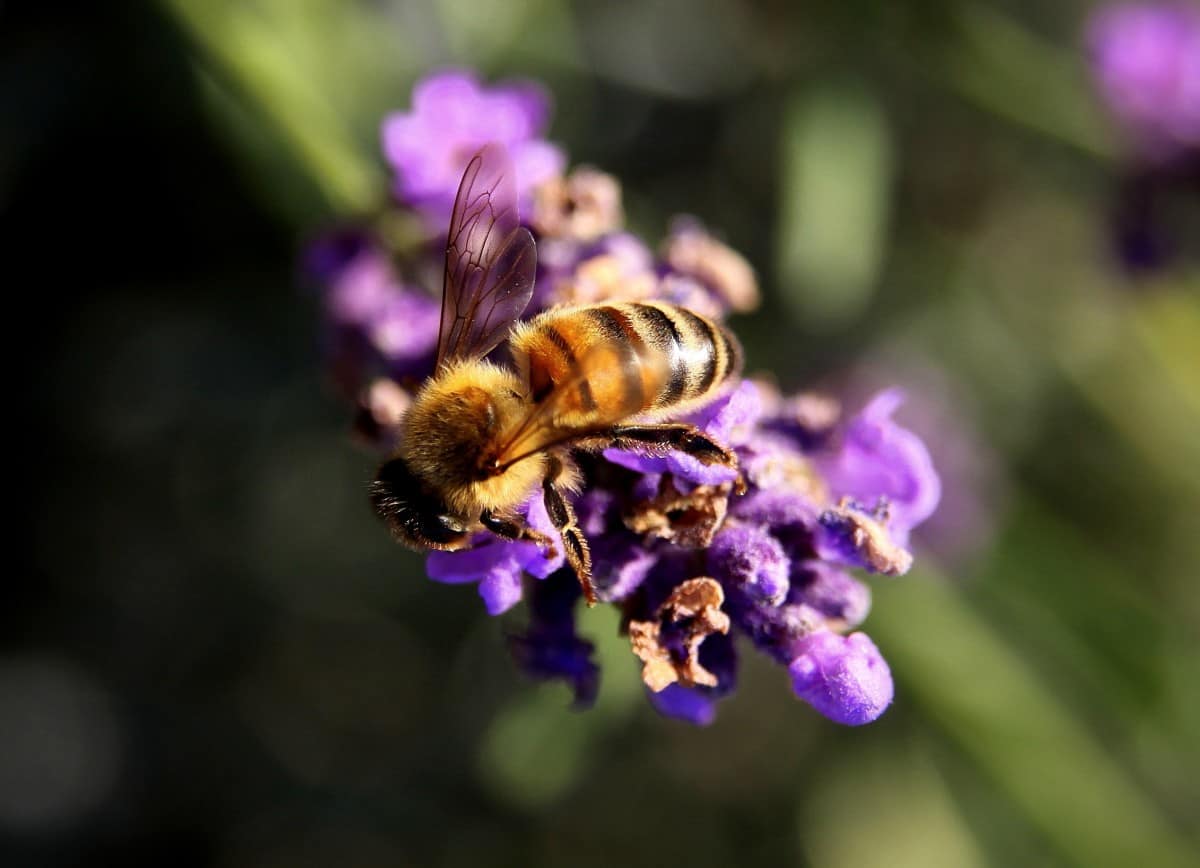 Bee Plants
Information at the stand will show the indispensable importance of bees and Rik Storme will introduce you to the best bee plants for every season. There is a small exhibition (weather-permitting) of the Wild Bee Calendar: for sale via https://www.wildbienen-garten.de/kalender-1/ You can also view the recent book (Plantenvademecum voor wilde bijen, vlinders en biodiversiteit in de tuin) by Arie Koster, the indispensible, major reference work, about bee plants. Planterij Groenstraat 13
Spices
Kevin Lennertz shows you how to make an edible flower arrangement. Daniëlle Houbrechts explains the preparation and processing of the flowers. Martine shows you how to use beewax covers -instead of plastic - to preserve flowers and foods.
Spices and LK Floral Service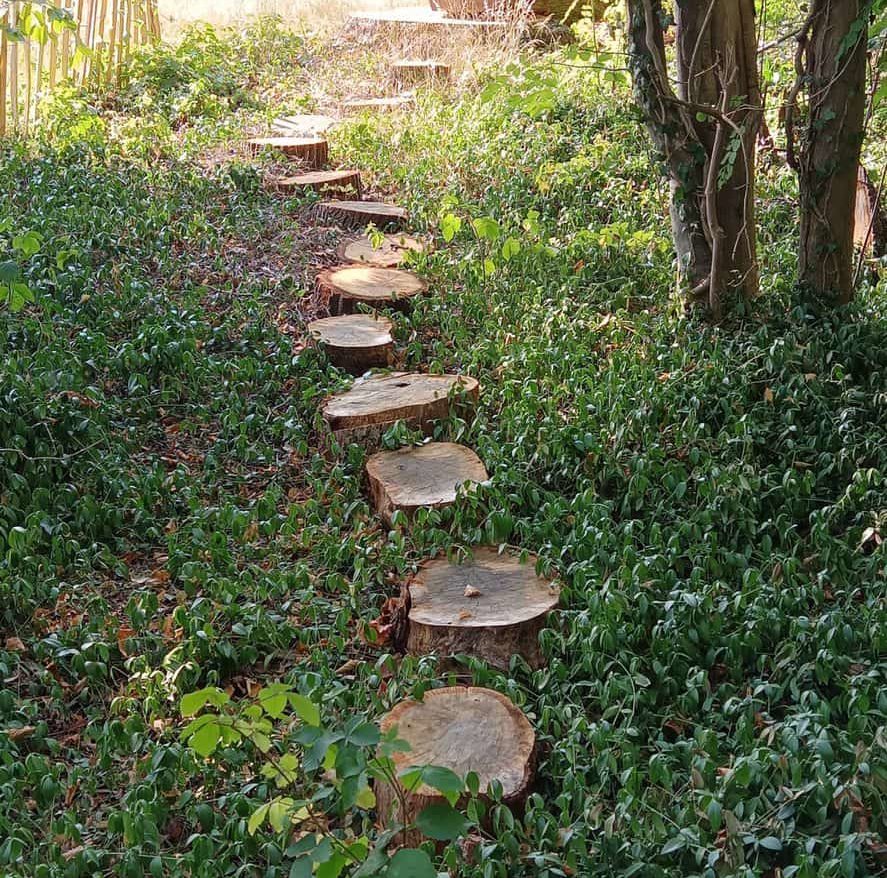 Nature Playground
For children from 6 to 12 there is a nature playground behind the first stands in the alley of plane trees, for the little ones there is also a play forest in the 'manège'.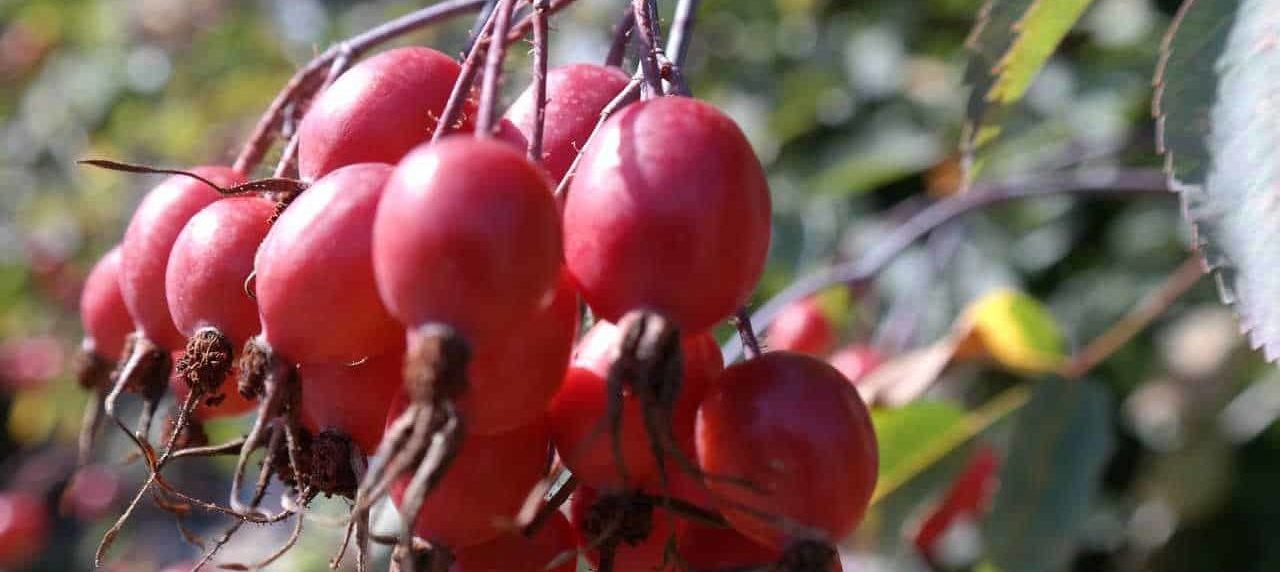 150 Years Lens Roses
Rudy and Ann Velle celebrate the 150th anniversary of the rose nursery that they acquired from Louis Lens. There will be an exhibition on the stand and a walk with Rudy to look at the numerous different rose hips at Hex.
Lens Roses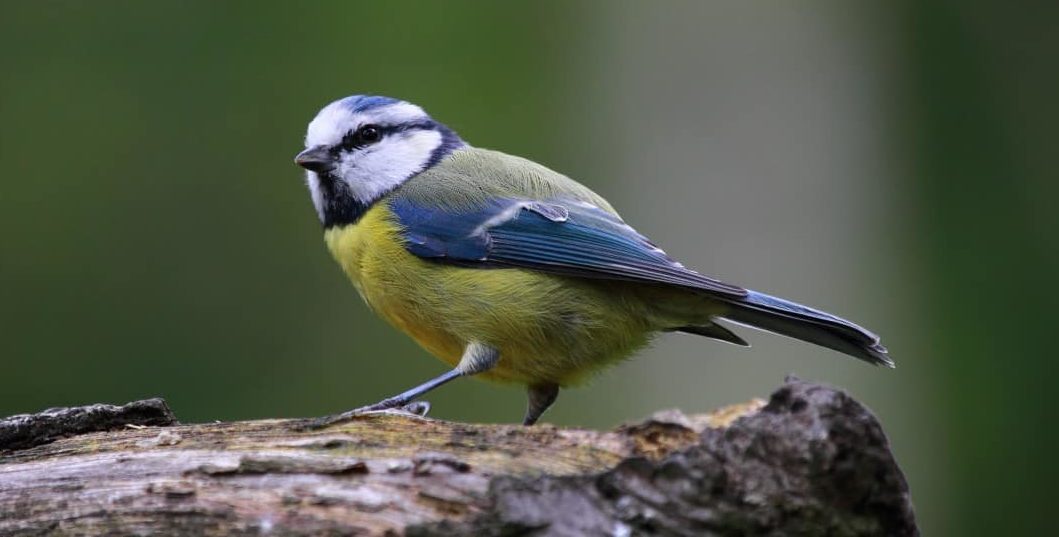 Permaculture
Ellen Fiers will give a demonstration about plants that are "insect-resistant" and can be integrated into all forms of planting, as well as showing how biodiversity and permaculture help create an ecological balance and provide a solution for sustaining important insects. Ecogarden Design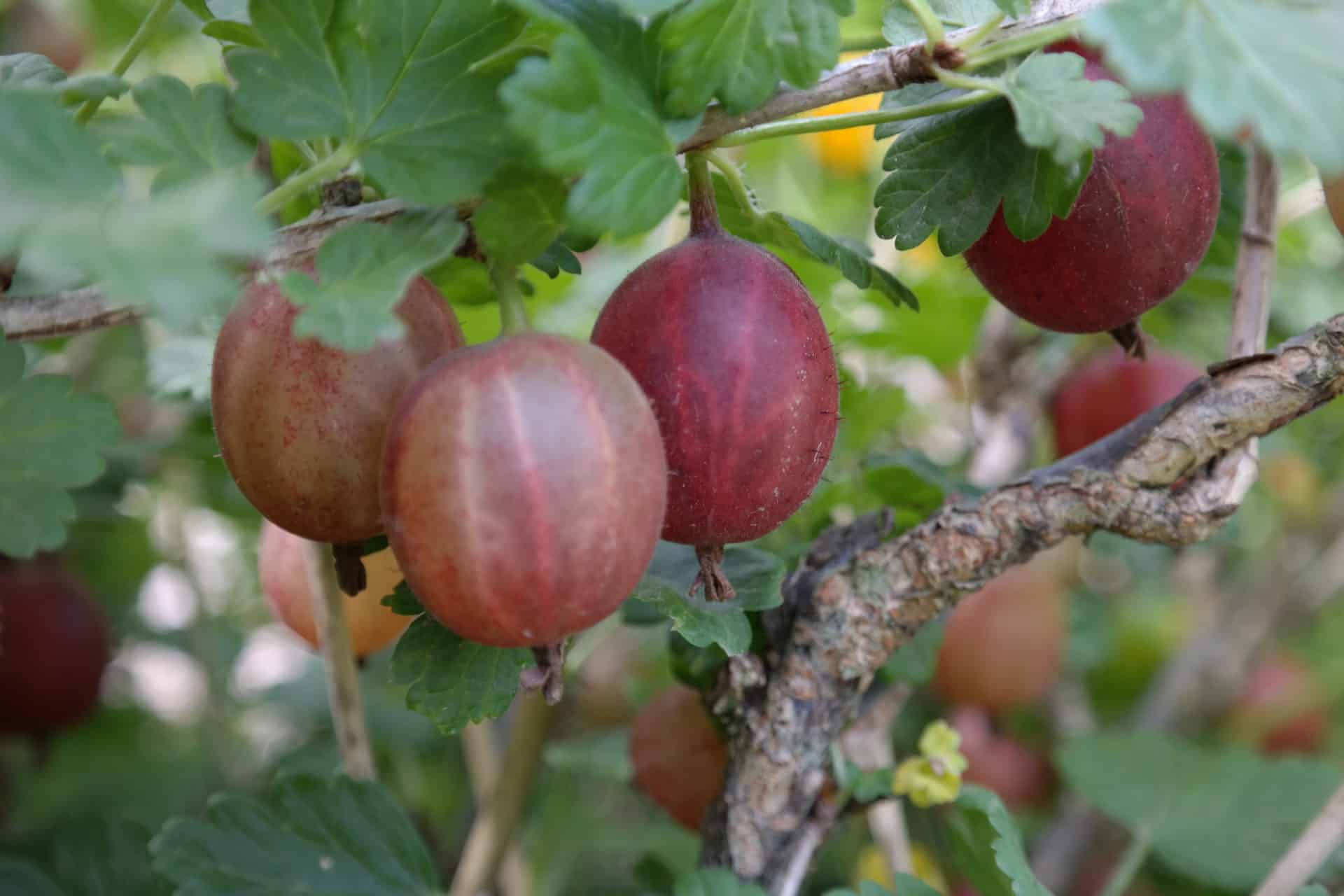 Cycle Gardening
At their stand, Marc Geens will introduce you to sustainable gardening, which also includes cycle gardening and garden planning.
Kruisbessen Proeftuin
Copper traces
'Traces of Copper'. A demonstration by Henny Schalen and a chance to experiment with bronze garden tools, as well as having your pruning shears sharpened (for a small fee) plus instructions for maintenance.
Copper traces
Dyeing Natural
Caroline Klinckhamers shows fabrics dyed with wild plants. There will be 3 demonstrations: (1). which plants supply dye (2) the ecoprint technique (3) applications (artistic quilts and shawls) CK-Quilts