Arjanne Boekhout & Ruud Willems
Address
Utrechtseweg 246 NL-6812 AN ARNHEM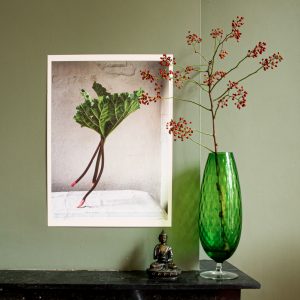 Meet Your Greens is the story of Ruud Willems and Arjanne Boekhout, a duo of makers from Arnhem. The Vegetable Portraits they make are an ode to vegetables. An invitation to look with wonder at the beauty of everyday vegetables. In their portraits, they want to show the pure and generous vitality of vegetables. At the bottom of each portrait, a cooking technique is explained with a few simple applications/suggestions. In this way they share our love for food with a full, honest taste. Simple and inspiring. Making people feel connected to the land and the seasons again.
They publish the Vegetable Portraits as fine art prints. Extraordinary printing requires extraordinary design paper. They chose Munken Lynx Rough. This high-quality, durable paper has an open structure with a natural white tint, which makes the details almost tangible and gives the portraits a serene look.
The portraits are 48 x 63 cm.