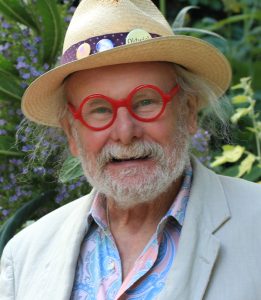 Last week we lost a daar friend. Roger Phillips was a passionnate photographer, botanist and mycologist. From his rooftop flat in Eccleston Square, overlooking the common garden he was taking care of, he would never stop working. He was so enthusiastic that he could share his passion narnturally with anyone. Together with Martyn Rix he had published many books on plants, flowers, schrubs and trees. He wrote a bestseller on Mushrooms which you could find all over the world.
I remember him bringing once from England a huge beech truffle the size of a 'coeur de bœuf ' tomato!
Since his first participation to our garden festival at Hex he would become a regular visitor, presenting new botanical books, introducing people to the beauty and the magical scent of roses, foraging wild food and cooking it on a camp fire.
But his greatest talent was to sharing his enthusiasm with anyone who would meet him. Roger has inspired so many people.
We will miss the joyful little man with his red glasses…