FRIDAY 9 – SATURDAY10 – SUNDAY 11 JUIN
 

from 10 am until 6 pm (last tickets 5 pm)



The chateau and grounds at Hex are surrounded by lush gardens as well as parks, farmland, orchards and forests. Hex dates from the late 18th century and has, over time, managed to preserve its atmosphere, its traditions and its unique character.The gardens and grounds are maintained by professional gardeners who want to show and share the intricacies of their art to an interested public.
The historical gardens and landscaped park open twice a year to the public: once in early June, and again on the second weekend in September.

Opening 2017: June 9, 10, 11 and  Sept 9, 10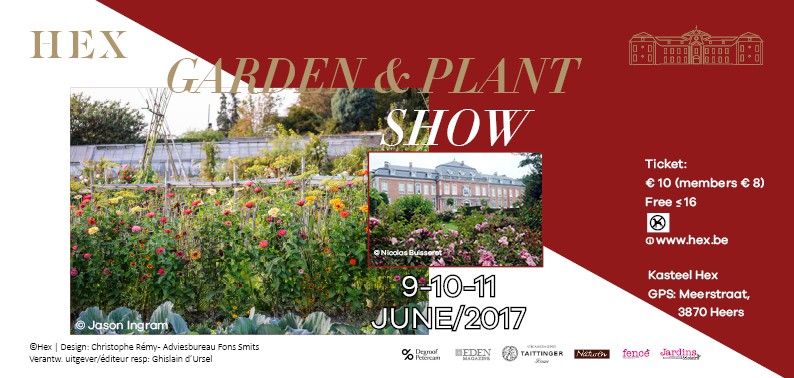 Ticket:  € 10 pp.
Annual card: € 16 pp.
Members Garden Clubs:  € 8 pp.
Free under 16 y
Acces difficult for wheelchairs and prams
No dogs allowed.
Free Parking

THE THEMES:
 Apart from delightful walks and tours in and around the gardens, special displays of interest to gardeners will also be on show, such as:

THE IMPORTANCE OF BEES AND OTHER INSECTS

AND THEIR HOSTPLANTS
-Lieve Adriaensens (Silene) explains all about it on her stand.
-Marc Geens (Kruisbessen proeftuin) talks about pollinators of berry fruit and the importance of small insect hotels. *
-Rik Storme (Planterij Groenstraat 13) describes his model garden: a perennial meadow with hardy bee plants attracting lots of insects, bees and butterflies. *
-Jean Marie and Anniek Dheedene (Found.W.Böttcher) show the varieties of Clematis, which are host and bee plants.
THE VERSATILE USE AND VALUE OF LEAF PLANTS
an exhibition by Peter Bauwens (De nieuwe Tuin) of 24 varieties of kale – a little-known group within the cabbage group, which is not only highly nutritious but also very decorative.
This exhibition will display kale, green cabbage, cabbage with curled leaves and with pinnate leaves, with information about their culture, origin, nutrition and recipes.
His creation of 2013 'Frills of Hex' (kale x mizuna), a pinnate-cabbage, will also be on display. This variety will soon be registered with the gene bank in the Netherlands.
THE IMPORTANCE OF FUNGI IN GARDENS
Mycorrhiza which benefit roses:  'Healthy soil, healthy roses'.
Marianne Lundahl (Rozenkwekerij De Bierkreek)  explains how to keep roses healthy, and Hans van Hage explains the importance of the soil, during a walk through the garden. *
WHEN THE EDIBLE BECOMES BEAUTY
– Peter Bauwens (De Nieuwe Tuin), proposes an exhibition of his best vegetable pictures.
– Danielle Houbrechts (Kruidjes) demonstrates how tasty, healthy and beautiful roses can be to eat and to use as cosmetics. At her stand Danielle will give a volunteer a rose mask. *
-Caroline Dombrecht (Lens Roses) introduces rose tea and rose care products.
ROSE LAUNCH
A special rose, created by Jan Janssen (Vierländer Rosenhof), will bear the name of an outstanding personality in the botanical world. *
BOOK PRESENTATION
'L'esprit de château, Le Lude' , followed by the dedication by the author, Barbara de Nicolaÿ. *
COOKING FROM NATURE
with Wild Food expert Roger Phillips. *
EDIBLE FLOWERS
Lieve Adriaensens (Silene) shows her edible flowers.
RARE PLANTS AND GARDEN PRODUCTS
Many expert nurserymen exhibit and sell extraordinary rare plants while specialists offer exclusive garden products.
CHILDREN
Several participants offer interesting activities and displays to engage the children.
CATERING
There are a variety of places in the grounds where delicious food and snacks, with flowers, are available.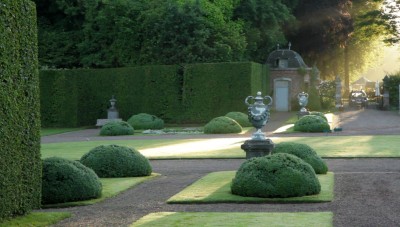 *See TIMETABLE

Tuinen Kasteel Hex
B-3870 Heers-Heks
YOUR ROUTE DESCRITION? CLICK HERE